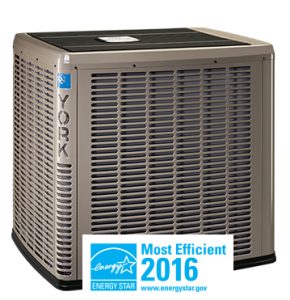 Coastal Energy offers a variety of York heat pumps that will fit your specific heating situation and your budget. The LX Series and York's top of the line series, Affinity, offer the solution you're looking for. (You'll also appreciate that York uses environmentally friendly R-410A refrigerant.)
AFFINITY SERIES
The York brand is known for creating quality products that provide year round heating and cooling as well as indoor air quality.  A York® Affinity™ Series Heat Pump is built to last with high quality performance that will exceed your expectations. Your home environment is about more than temperature. It's also about being comfortable, undisturbed by noise, and confident that your system is reliable.
LX SERIES
Feel warm in the winter and cool in summer. What more could you ask for? With an LX Split System Heat Pumps, you can also count on high efficiency, energy savings, and reliability from season to season.  This series offers a variety of models to choose from including their Hybrid Comfort
System™ which lets you run as an electric heat pump or shift to a gas furnace.